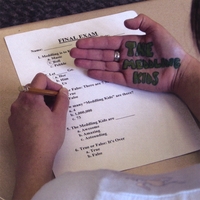 Like a sugar-coated razor blade, Rochester, New York's The Meddling Kids offer up a great mix of finely crafted hard pop songs that hide behind those sweet vocal harmonies some pretty biting lyrics.
I came across the band early last year when I was sent a copy of a pre-release version of their great lead off track Let Her Go which has since been honed to a biting sharpness which brings the guitar even more to the forefront. Their self-titled CD is resplendid with hooks galore, both of the guitar and vocal variety. Whether on Goodbye, 7 More Days or one of my favoutites Guilloteenager, these guys know how to draw you in and hold you from beginning to end.
I like all kinds of rock and roll but I have always especially enjoyed well-crafted rock songs laden with hooks. Some may call it commercial, I just call it rock and roll fun of the highest order. Great stuff.
You can listen to some tracks at their MySpace page http://www.myspace.com/themeddlingkidsrock
Copyright 2001 and 2008 by Nitin Vadukul Photography – All rights reserved.
Subject – Down to Earth, a 2001 record released by Ozzy Osbourne on Epic Records, with cover/insert images by Nitin Vadukul
Metal fans waited impatiently for 6 years for a follow-up to Ozzy Osbourne's 1995 hit album Ozzmosis, being rewarded in late 2001 with a new studio recording titled Down To Earth.
From Warrington, Northwest United Kingdom swaggers Exile Parade, a band I only recently discovered but have since played on Rock and Roll Report Radio. Heavy but with a strong sense for "the hook," my favourite comment made about them was a review by Jed the Fish at KROQ in LA who said "They sound like Oasis but with bigger testicles."
Absolutely love Still Number One and Fire Walk With Me but Superstars is growing on me as well. This is one of those bands that you know will just grow from strength to strength so it should be fun following their progress. Have a listen to the 5 tracks they posted to their MySpace page at http://www.myspace.com/exileparade and enjoy the tunes. Check out the video for Fire Walk With Me posted here as well!
Later.
Mark
I just played Badmouth for the first time on Rock and Roll Report Radio on the January, 14th show and I was quite impressed on first listen to this Stockholm, Sweden-based band. Although I played Super-Sassy Glossy Lips which was their first song ever released, they have a brand new EP set for release on January 22nd, 2008 featuring a bunch of killer tracks including Kick It Up a Notch, Cocaine Girl and my favourite Last Train.
I swear I don't know what is in the water in Sweden but that country's rock and roll continues to impress me…
Check out their MySpace page at http://www.myspace.com/badmouthswe and have a listen and I'll post a link to buy their new EP as soon as it is available.
Copyright 1993-2005 and 2006, Robert Minkin and Minkin Designs – All rights reserved.
Subject – Dick's Picks, a series of CD releases by The Grateful Dead on Grateful Dead Records, with cover images by Robert Minkin
In these days of declining record sales, many people who report on the music business wonder aloud how it is that musicians are supposed to be able to survive (and, even, make a good living) without selling millions of CDs or digital downloads. Throughout the short history of Rock and Roll music, there have been a few great examples of musical acts that have connected with their fan bases in such as deep way that they have been able to build and support their careers (and their families) on the sales of the wide range of related enterprises, with touring being the most obvious (and, done right, a very profitable) method.
The consummate touring band, The Grateful Dead is a great example of such an act. For 30 years, from 1965 to 1995, the band played almost constantly, traveling throughout the U.S. and Canada, as well as Europe and, in 1978, in Giza, Egypt, near the Great Pyramids. All during this time, the band lived in an open marriage with its fans, allowing them to record and share their music and, in some cases, providing the throngs of Deadheads who traveled with them from show to show with the necessities of life (free food, shelter, first aid and, quite often, music).

In this "singles generation" where it seems that the music industry is ruled by one hit wonders and we seem to have gone back in time where records were merely the latest single surrounded by filler, it's nice to listen to a CD where you literally cannot make up your mind as to which song is your favourite. Such is my dilemma with the new CD Blinded By Sound by Tampa, Florida band Tenspoke Indies.
I was immediately floored by opening track Blinded By Sound and things continued to build with Give To Get (which reminds me a bit of the groove from Cold Heart Bitch by Jet). But the song that really got my rock and roll heart beating was the opening bass line to Lights Out, a phenomenal track which has been playing on my iPod nonstop since I got the CD. Throw in some absolutely first rate ballads including the beautiful Over Your Shoulder and you have a high energy rock and roll classic. Highly recommended. Listen for them on the next Rock and Roll Report Radio on January 14, 2008 and an upcoming Rock and Roll Report Podcast.
Later.
Mark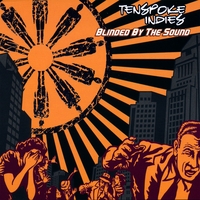 I was recently in Burlington, Vermont (a seriously cool little town) and as I was walking back to my hotel late on a Saturday night when I heard some amazing blues harp emanating from this little bar on the Church Street Marketplace. Unfortunately I couldn't stick around but I finally tracked down the band and it turns out that it was Avi and Celia, a duo who split their time between Burlington and Boston.
Now what do they sound like? iTunes on my laptop pegged them as unclassifiable which is one way yo look at them. I suppose you can say that they take bits and pieces from the blues, bluegrass, folk, Americana and rock and roll but that's beside the point in my book. You can tell that this music comes from the very fiber of their souls and it is absolutely spellbinding to listen to.
Check out some of their stuff on their MySpace page at http://www.myspace.com/aviandcelia and get ready for something a bit different but man the groove on "Soak Her In" is addicting! I'm a fan.
Later.
Mark
Subject – Follow the Leader, a 1988 release by Eric B. & Rakim on Uni/MCA records, with cover image by Drew Carolan
For a guy who thinks that he has a fairly open mind when it comes to music appreciation and thinks that he's kept abreast of most major musical revolutions of the past 40 years, I must honestly say that I missed the beginnings of organized rap & hip-hop. I do remember Deborah Harry's rap on "Rapture", and thought that that was kinda cool, but I entered the rap world only after being exposed to Ice-T's Body Count. As a music fan with hard rock/heavy metal leanings, I heard that album, was thoroughly impressed, and then wanted to know more.
Copyright 1988 and 2007 – Drew Carolan Photography – www.drewcarolan.com
In my quest for knowledge, I consulted a friend and co-worker at the time who had been involved in the late 80's rap/hip-hop scene in NYC, which eventually led to the production/promotion world and his own label. He helped me understand who was who, who came first, who was popular, etc., but it may have been too little, too late (thanks, Rocky, for trying). However, when I started the gallery, it became clear that the imagery used to package and promote records in this genre was really compelling, with the talents and artistry of the photographers and illustrators well-represented in the major "world's best record cover" lists. More than what was typically found in the rock and pop genres, these photographs and illustrations were a vital part of the artists' image, with these images the keys to the record-buying public's acceptance of an artist's "street cred". The better an artist's credibility, the more likely it was that the lyrics represented a rapper's actual life story, and the more that the public believed, the larger the artist's loyal fan base would grow.
Copyright 1994 and 2007 – Stephen Stickler Photography – www.stephenstickler.com
Subject – Ko?n – Korn, a 1994 release on Immortal/Epic Records, with cover photography by Stephen Stickler
With "grunge" music filling the airwaves and dominating music television, Bakersfield, California's Ko?n was a band that stood out from everyone else in a number of different ways. They weren't full of angst – they were an angry band of metalheads who had discovered hip-hop beats and had a lead singer that also played the bagpipes! After being discovered by an A&R exec while playing in a nightclub, they worked on their unique musical and lyrical stylings until late 1994, when they released their self-titled debut Korn on Immortal/Epic Records.
From Lexington, Kentucky I present Nine Pound Hammer, a kick ass rock and roll band if I ever heard one!
With songs like Drunk Tired and Mean I think you know where they are coming from with their particular brand of rock and roll. If images of shitty road houses on a blue highway somewhere down south come to mind you are not alone. "Out of my way I'm as drunk as hell" is how 12oz Mouse Theme kicks off and things go pleasantly downhill from there.
Check out their MySpace page at http://www.myspace.com/ninepoundhammered for a taste of what they sound like. And pour yourself a shot of red eye to get into the proper frame of mind!
Later.
Mark